Apiary Menu
Lunch Menu
Eat in or takeaway :
Served from 11:00 – 15:00
Locally Sourced 8oz Battered Cod Fillet and Chips £13.95 GF
Served with Mushy Peas, Slice of Bread (with butter portion) and Stokes Tartare Sauce. Gluten-free batter
Locally Sourced and Homemade 100% Beef Cottage Pie with onion gravy £10.95
Served with seasonal vegetables
Georgia's Homemade Italian Style Lasagne £10.95
Layers of Egg Pasta, Bechamel sauce and two hour cooked Bolognese sauce
Served with homemade garlic bread
*Add £1.00 for cheesy garlic bread
Apiary Ocean Pie £10.95
Succulent morsels of locally sourced fresh fish in a white parsley sauce smothered in buttered mash and served with seasonal vegetables
BBQ lentil veggie chilli with Mexican rice (Vegan) £10.95
Mixed Roasted vegetables, Puy lentils, mildly flavoured rice all wrapped up in a BBQ sauce.
Cheese or Locally smoked Ham Ploughmans £6.99
Choose from West Country Cheddar, Red Leicester or Brie
Served with a choice of sticky pickle, green salad, red grapes, green grapes, red apple
All Day Menu
Eat in or takeaway.
Served from 10:00 – 16:00
Jaffles – Served with a small salad garnish All £6.50
Choice of White or Multigrain Bread
Local Smoked Ham and West Country Cheddar
West Country Cheddar and Red Onion
Tuna and West Country Cheddar Melt
BBQ Chicken West Country Cheddar Melt
Red Leicester Cheese and Chilli Melt
Jacket Potatoes – Two toppings of your choice from below- Served with a salad garnish.
All – £6.50
extra topping £1.00 per topping
Baked Beans, Cheese, Tuna Mayo, Roast Chicken, Coronation Chicken, Smoked Bacon, Sweetcorn, Coleslaw
Breakfast Bap – Served on either White or Multigrain Large Bap £4.99
Choose from sausage, bacon, egg bites or cheesy egg bites, some of them or all of them your choice.
Quiche Salad – £6.50
Choice of bacon and cheese, salmon and feta or tomato and mozzarella, served with your choice of green salad, coleslaw, cucumber, tomato, red onion
Sandwiches £4.25
Various flavours (please ask your busy bee) on either white or multigrain bread
In the Hot Cabinet
Eat in or takeaway.
From 10:00am
Home Cooked Sausage Rolls £2.50 each
100% local sausage meat wrapped in puff pastry
Peppered Steak Slice £2.75 each
Peppered steak filling encased in traditional puff pastry
Chicken and Mushroom Slice £2.75 each
Chunks of succulent chicken in a mushroom sauce encased in traditional puff pastry
Creamy Vegetable Lattice £2.75 each
Puff pastry lattice topped slice with a creamy vegetable filling topped off with baked west country cheddar and red Leicester cheese.
Cheese & Onion Lattice Fingers £2.50 each
Lattice Fingers made from a blend of cheese and onion in flaky puff pastry, glazed and topped with a mixed red and white cheese
Vegan Sausage Roll (V) (please ask for availability) £3.00 each
Meat free sausage-style filling made with soya bean protein wrapped in vegan glazed puff pastry
Vegan Pasty (V) (please ask for availability) £4.25 each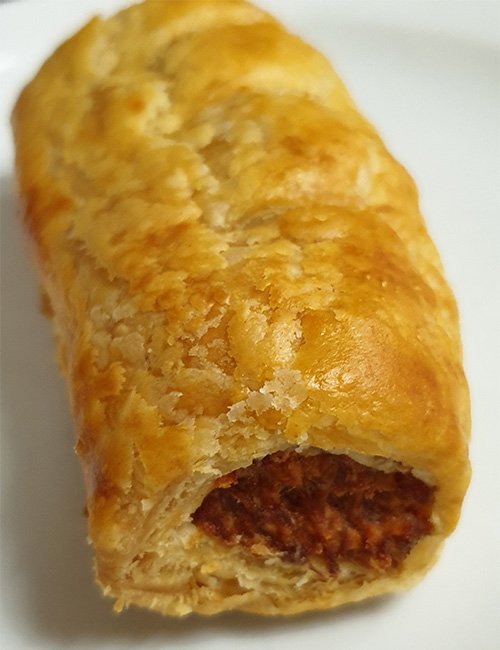 Sweet Stuff
Eat in or takeaway.
Sweet stuff (please ask for Specials) served from 10:00am
Cakes by the slice (availability varies please ask your busy bee)
Victoria Sponge (GF) £3.75
Lemon Drizzle (GF) £3.75
Chocolate Fudge Cake (V) £4.25
Coffee and Walnut £3.75
Cake of the week (Please ask) £4.50
Red Velvet £3.75
Chocolate Jaffa (V) £4.50
Sticky Toffee Pudding (GF,V) £4.50
Carrot Cake (GF) £3.75
Tray Bakes (availability varies please ask your busy bee)
Maple and Pecan £2.99
Amaretti and Pistachio £2.99
Cinnamon Swirl Slice £2.99
Millionaires Shortbread £3.50
Salted Caramel Shortjack £3.50
All Butter, Honey Flapjack (GF) £2.99
Brownie (GF) £2.99
Bakewell Slice £2.99
Raspberry and Coconut Slice (GF) £2.99
Crumble Slice (GF, V) £2.99
Cookies (milk chocolate, double chocolate, oat and raisin, white chocolate) £2.25
Available Wednesday and Friday:
Homemade Fruit Scones with jam and butter £1.75
Homemade Cheese Scones and butter (contains mustard powder) £1.75